The Business of Photography is an article series by Design Aglow for Miller's, designed to be used and shared by photographers. Feel free to grab and share on your site, blog and/or social media pages with a byline and link.
PART 3: Clients—Love 'em or like 'em, they can make or break your business
Happy Client, Happy Life
That's how the saying goes right?
No matter what kind of creative business you run, chances are you have customers or clients who you are catering to. When you're running your own photography business, your clients are your number one priority—they're who keeps you booked and refers you so you want to make sure to keep them happy and satisfied!
Don't worry, it's a lot easier than you think.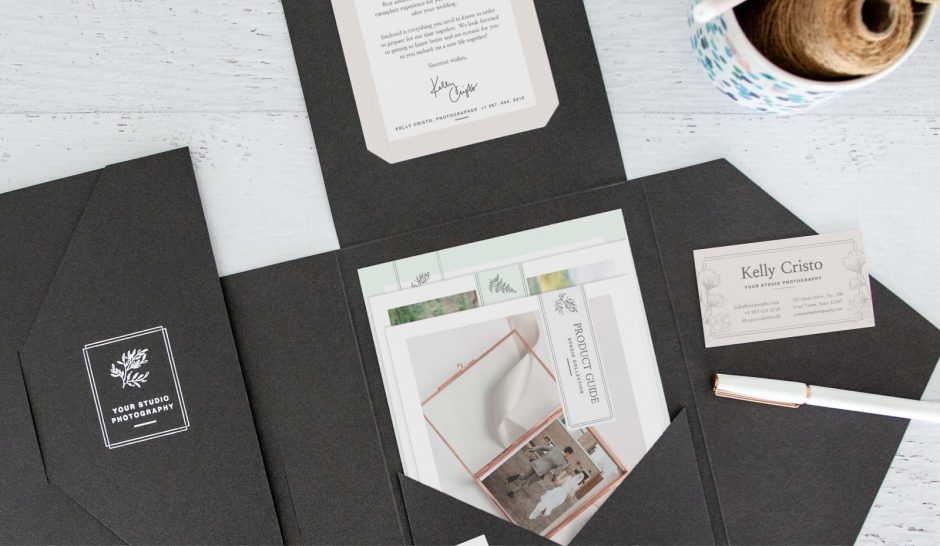 Where do I start?  
Timely responses to emails, a user-friendly website, and active social media profiles are facets of running a business that clients respond well to. Prospective clients will review all of these things when looking to book a photographer for their wedding, engagement session or family portraits.
However, online interaction only goes so far. If you really want to win your next client and book your next gig, it's all about those personal, face-to-face interactions.
This sounds easy in theory, but how can you wow your clients and stick out from the crowd without using up all your time, energy and resources? We thought you might ask those questions, so we've created the perfect solution to provide a five-star experience for your clients.
Our new Client Welcome Packet will create just that kind of experience. This luxurious gift for your client comes equipped with everything you'll need to not only make a lasting impression and but it's packed with information to instill confidence in your clients.
Our Welcome Packets come with all the essential professionally written content that we love, but our favorite is the Camera Ready Guide.
Let's be real, you're most likely not going to be shooting with a bunch of models and if your client hasn't spent any time in front of the camera before, it can be intimidating. This guide will help your clients look and feel their best in front of the camera.
It's the perfect solution to instill confidence with your clients right off the bat. If they know that you know what you're doing, that will keep them excited for shoot day.
Welcome Packets also come with a general product guide, which is the perfect segue to get your clients thinking about their investment in portrait wall art, albums and more.
Make That Money, Honey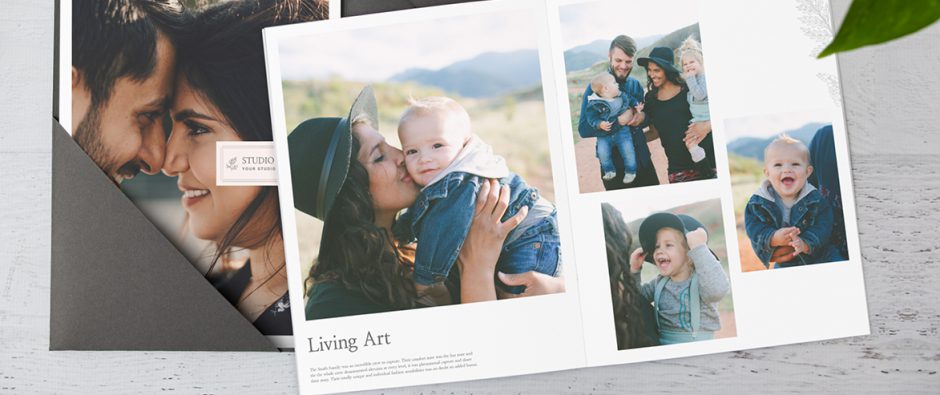 You've won the client, the shoot is scheduled and you're ready to go. But you're not done yet. The best way to ensure strong sales after you've booked is to sell physical products. Whether it's framed prints, photo albums or keepsake portfolio boxes, you'll want to offer your clients something they can fall in love with and treasure forever.
Our handy product guides* are the perfect tool to set the stage for a successful sale. This 4-paneled, 2-sided folded card contains professionally crafted product mockups for you to place your images in to help your clients start planning for their own custom art and keepsakes. Or, choose the product lookbook for a more editorial look and feel.
The best part? All of our templates are sized to be printed at Miller's. It's the high quality, no hassle solution you've been looking for.
Now that you have all the tools necessary to run a kick-ass photo business, get out there and win those clients.
Check out our brand templates for photographers here.
*Individual Product Guides and Product Look Books are sold separately from our Client Welcome Packets
Tags: Guest Post, Marketing, toolkit