Perhaps the heat is getting to us but we're unleashing a big sale starting today! Save a whopping 50% on select Legend and iMount Albums orders through ROES from August 1 to August 31, 2012.
Check the chart for which sizes and page counts are on sale. Those with an "X" are included (see below). All Legend Albums plus the 6×9, 8×12, 10×15 and 11×14 iMount Albums are being discontinued from the Miller's album line, so take advantage of your last chance to order these products, which will soon be out-of-stock.
IMPORTANT: TABLE UPDATED AS OF 8/27/2012 DUE TO OUT-OF-STOCK INVENTORY.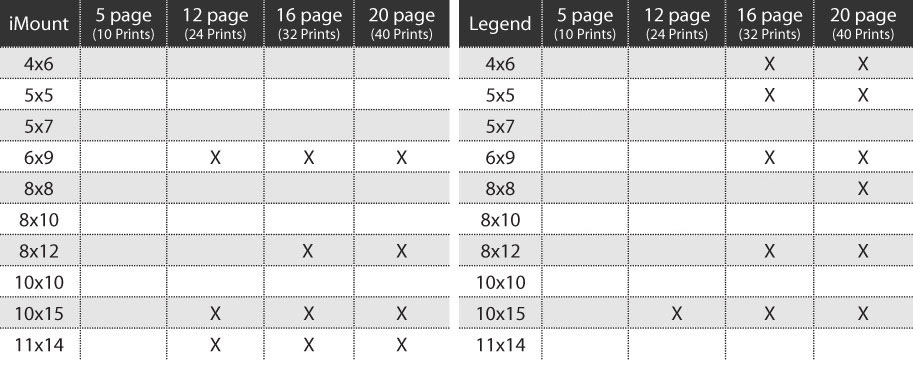 Get a classic, timeless album that your clients will adore for a lifetime. Visit the Legend and iMount webpages to get started.
FAQs:
The sale price is not reflected in my order summary. Am I really receiving a discount?
Yes, you are receiving the discount; however, the sale price will not be reflected in order summaries or email confirmations. The discount will only appear after the order is transmitted and received by the lab.
Do I need a promotion code?
No, the discount is automatically applied to orders once they enter our system.
I uploaded a Legend/iMount Album order just prior to the start of the sale. Can I receive a credit?
Unfortunately, any print ordered prior to the start of the sale will not be credited.
Can I place an order in Remote Suite PLUS for one of the sale Legend or iMount albums?
No, sale albums are only available through ROES.