The Business of Photography is an article series by Design Aglow for Miller's, designed to be used and shared by photographers. Feel free to grab and share on your site, blog and/or social media pages with a byline and link.
PART 2: What's in a Brand?—That By Which Any Other Brand Would be Jealous of Yours
What is Your Brand Anyway?
You've heard it a thousand times. You are your brand and your brand is you. But what does that mean?
Your brand is the story you want your business to tell. It's the ongoing process of establishing a prescribed image of yourself to your audience, clients, etc. Establishing a strong brand is essential to creating a successful business. You want your work to be so recognizable and unique that someone seeing your work would know it's yours from a mile away.
So What's Step One?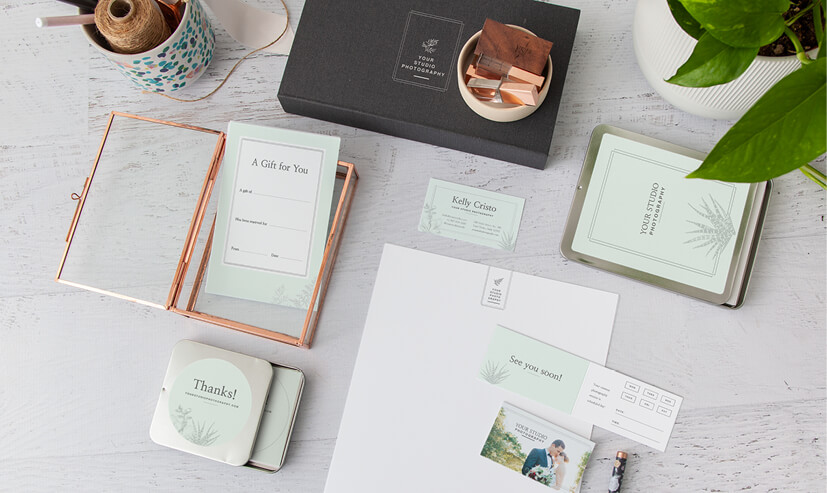 Establish who you are as an artist.
Are you a romantic storyteller? Or do you shoot bold, iconic imagery? Maybe you're more of a modern minimalist with fresh, clean edits. Is your photography daring and colorful? Whatever it is that you do best, your brand communicates who you are to potential clients before you actually say a word.
You'll want to create a brand that speaks for itself, that is strong visually, and that really showcases who you are.
Aren't sure what your brand style is? Lucky for you, we made a Brand Personality Quiz that you can take here that will help you determine your brand look and feel.
How Do I Create my Brand?
The best way to create a brand that stands out is to be cohesive across all of your touch points. This means your website, printed collateral, social media channels and any other points of communication all align flawlessly. You should use the same themes, color stories, fonts, and profile photos so you are easy to find and instantly recognizable.
Our photography brand templates were created with just this in mind. We wanted to make successful branding a snap for photographers, so even if you don't know a thing about design, you can still have a strong visual identity that speaks to who you are as a photographer.
All the Tools You Need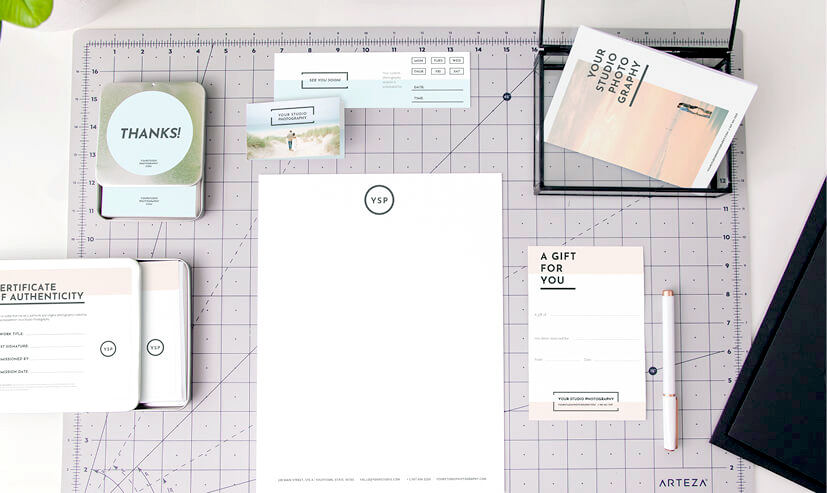 Each of our brand template themes was intentionally designed to be all-inclusive brand solution for your business. Meaning we've thought of every single instance you need smart, meaningful collateral step for your successful photography business, so you wouldn't have to. And the best part? Everything is 100% customizable and editable. Feel free to swap in your logo, colors, and content to make them your own. And if you don't have a logo or colors we got you covered. Each template comes with editable logos and logotype, a range of design variations, colors so you can mix and match until it is completely you.
We're passionate about the Stationery Suites and Lookbooks in each of our four style collections. These top drawer essentials tell the story of your brand to your clients in a beautiful, streamlined way.
We know getting the right words down can be hard, so we've done that for you too. We've included all the key content you need with clear, professional verbiage. It's a complete, curated system to support your brand. Our business essentials are simple to use, on-brand and affordable while still looking like you spent a fortune on high-end custom design.
Now, go forth and rebrand yourself as the stellar photographer we know you are.
Get a head start. Find your perfect fit in photography brand templates here.
Tags: Guest Post, Marketing, toolkit