Ugh. Bridal shows. Not my cup of tea. Having been a bride, I know what those girls are looking for. Two words: giveaways & cupcakes. As a photographer and business owner, what would be the point in me standing around like a used car salesman trying to lure brides into my booth as they passed by? I wouldn't have cupcakes, and, more than that, why would these couples even want to go to a show? I mean, come on. Who wants to spend a Sunday morning, wandering around with your bored groom, writing your email address down on every clipboard thrown your way, while feeling completely overwhelmed in a sea of vendors and styles now coupled with a belly full of frosting, and the surfacing reality of the serious dough you're about to drop on a wedding? Want to know what sounds better? Sleeping in.
But, I did it- and, I did it with everything I had in me. I had my own version of the Mad-Men-late-night-with-takeout brainstorming session and addressed all of my "WHY's" and "WHAT's" so I could make the best of this experience.
Why did I sign up to do this show? Because I challenge myself to do something different every year- whether it's a workshop, a conference, an advertisement, a magazine submission, or, in this case, a bridal show. I feel that if I want to grow my business, I need to extend my comfort zone. Because I long for connection, I need a platform in order for those connections to be made.
What was I hoping to get from it? Exposure. I can't add two single digit numbers together without counting with my fingers, but I do know the importance of having a powerful presence with a powerful brand. My booth needed to represent my brand- experience and connection. It needed to be inviting. It needed to be comfortable. I wanted to meet local vendors and see what they had to share, and, I wanted vendors and couples to see who I was and what I have to share.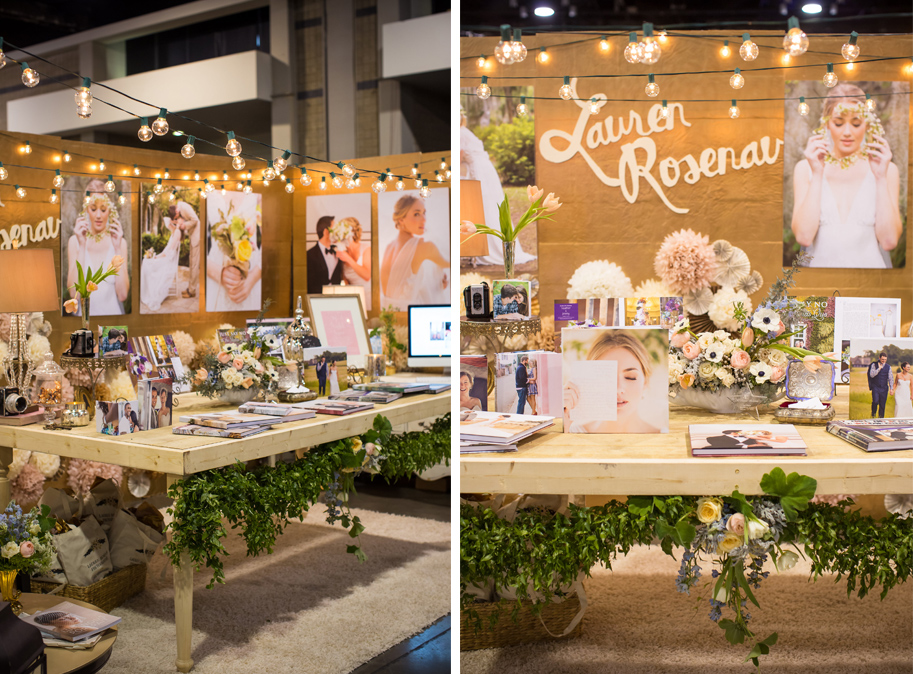 Why would a couple want to drop by my booth? Because it was going to be inviting. My plan was to recreate the atmosphere of my studio inside a 10×20' booth. My studio is nestled in an old house from the 1920's, decorated with several prints and little, nostalgic odds and ends that make the space feel like home. I really want couples to feel comfortable when we meet. Weddings are a very personal day, and I firmly believe not only do couples need to hire a photographer whose work they love, but they need to be comfortable with them as well. I wanted to take that environment with me. It was going to be the gold-rimmed Mad Men glass that would invite them to stop by and see what was going on. It would be overwhelmingly visual, but appeal to all the senses. It would smell like Anthropolgie (Capri Blue Volcano candle), taste like Trader Joe's Dark Chocolate Peanut Butter and Salted Caramel Truffles (aka, "heaven"), and look and feel like home. Sure, we could chat business, but you could also relax and look around a bit. Pull up a chair & stay a while (and then give me all your money! I KID. Kind of.)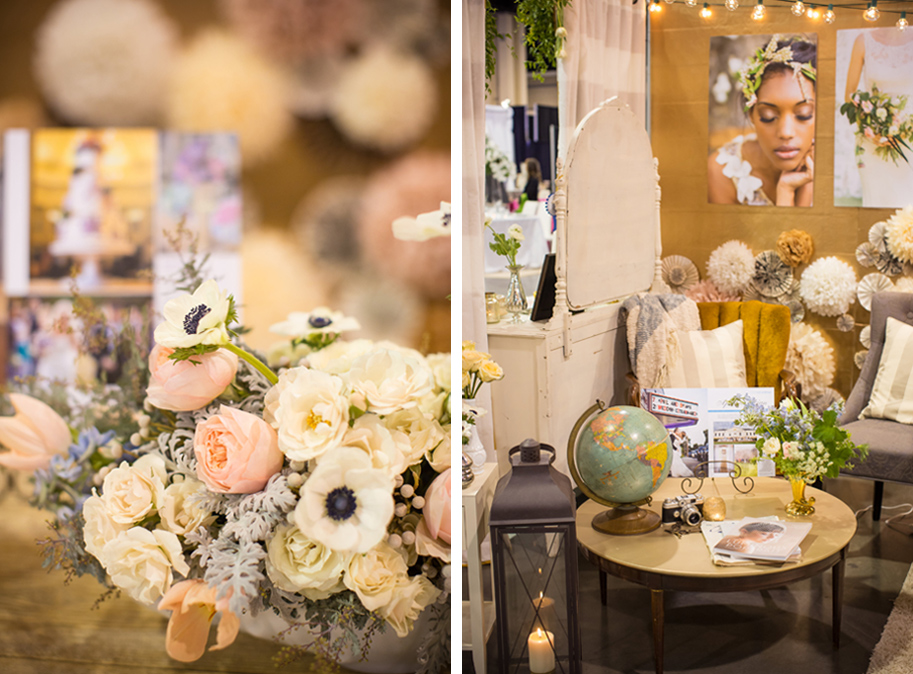 And finally, What would make them linger around a little longer if I wasn't handing out cupcakes? I didn't want to stand in the aisle and hand out useless coupons or pens with my logo on them. I HATE when I go shopping and the girl with the walkie-talkie and lanyard full of keys harasses me with a million reminders that "all denim is 50% off today!" Can't I just shop at the Gap in peace?! So- no lanyards. No coupons. No harassing. Couples were going to need something to do if I wasn't going to harass them with questions. AH-HA! Albums. They could stop, flip through a few albums, feel the pages, connect with the moments captured and preserved, and maybe gather inspiration for their own weddings. It would be an organic experience that would connect them with my work, my couples, my brand. Me. These albums would single-handedly represent all that I've done and want to do for them.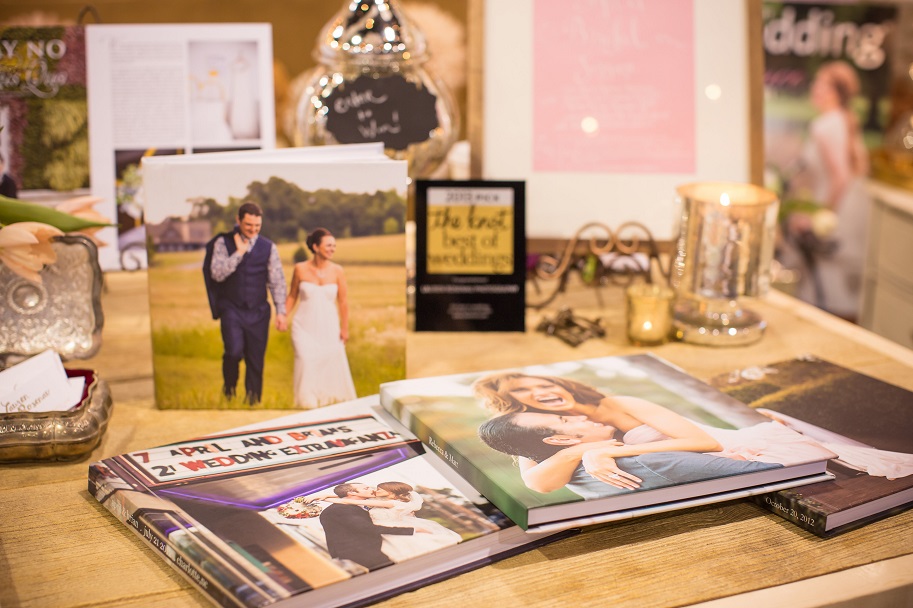 It was at the drawing board that I knew a booth bordered with black pipe & drape with a sad 8ft cafeteria-esque table wasn't going to help answer my why's and what's. In order to express my brand and create a space for the senses, we needed to start from scratch. The sketching began, and in essence, the booth would be a version of my studio and giant display of the only albums we offer- Miller's Signature Albums. I wanted the albums to be the center of attention. The farm table we made to display the albums was intentionally designed to represent the gathering place of a home- the dinner table. Where stories are shared and connections are made. "Home" has a feeling. "Home" is welcoming. I wanted couples to have something to hold. Something to do. Something to feel. The Signature Albums not only gave them something beautiful to flip through, they were a tangible invitation to connect and experience our brand.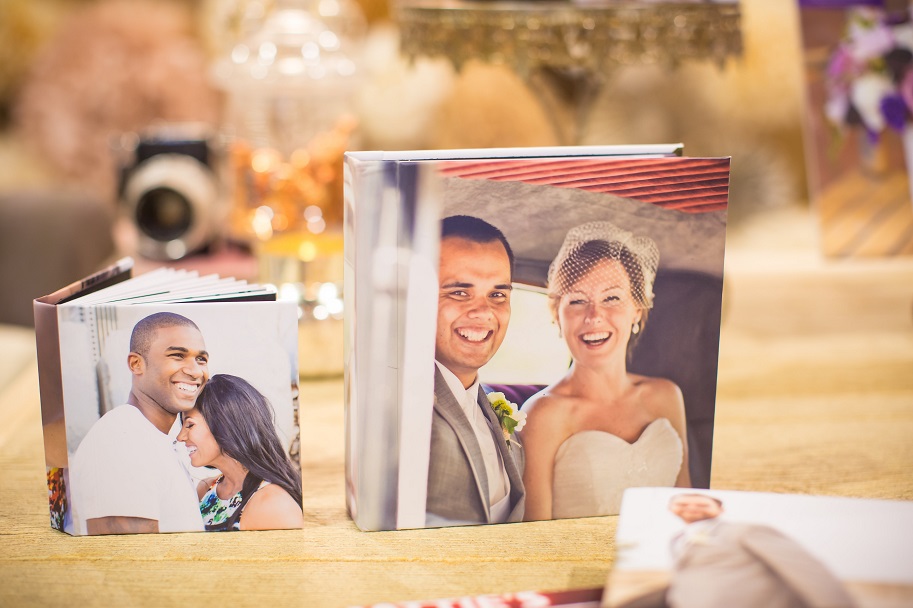 Couples, various vendors, and fellow photographers were not only flipping through these albums complimenting our work, but they were raving over the quality and workmanship of the albums themselves. The overwhelming feedback about how much everyone loved our booth and our albums was incredible. We had so many couples and vendors drop by and say, "I want to live in here!", which was exactly what we were going for. We didn't have a single person come to our booth and just walk on by. Everyone that stopped by looked through at least 2 albums, roughly amounting to about 5 minutes at our booth. There were also couples that stood there and looked through every single album- this happened A LOT. Now, I'm not a math kinda gal, but it was projected that a couple thousand brides would be in attendance and the show was 5 hours long. Needless to say- those albums got a lot of love, and because of them, so did we.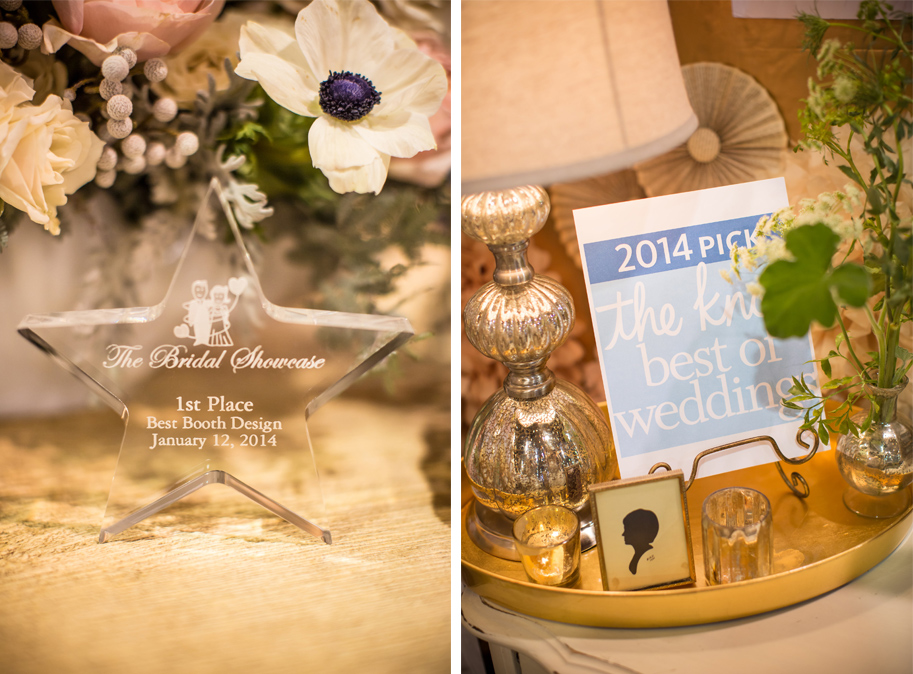 (Oh- and, we'll toot our own horn and share that we won "Best Booth Design", and it was our first show, ever. BOOM.)
The albums are something tangible after their something blue. They're the warmth of conversation at the dinner table. They make you want to stay awhile. They connect. The stories of my couples are told on these pages, beautifully. They are the keepsakes grandchildren will one day find in a trunk in the attic. These albums are a place for photographs to gather, and each page is a little piece of home.
Before I even had the chance to get home, my inbox was inundated with inquiries and sweet words from vendors and brides that loved our whole presentation. The show was a success. We were able to bring the essence "home" with an inviting atmosphere that established connection, created experience, and in the end, made our bridal show experience unforgettable.
Lauren Rosenau is a lifestyle and wedding photographer from Charlotte, North Carolina. To see more of her work, check out her website, blog and Facebook.
Tags: Conventions and workshops, Featured, tips